Equipment Operators to be Certified Without Touching Physical Machines
EDMONTON, ALBERTA—Virtual reality (VR) pioneer Serious Labs, the global leader in virtual reality (VR) heavy equipment and vehicle training simulators, has announced its new ANSI Compliant Assessment Scenario, the first-ever availability of VR operator training for Mobile Elevating Work Platforms (MEWPs) that complies with American National Standards Institute (ANSI) and International Organization for Standardization (ISO) standards. The announcement marks a breakthrough in the access industry benefitting training entities, rental companies, subcontractors, unions, and airline maintenance technicians in North America and many locations beyond.
Trainers who use the Serious Labs simulator to deliver the ANSI Compliant Assessment Scenario to new operators for MEWP 3a, 3b certification are no longer required to make those operators touch the actual equipment to finalize their training. If an operator completes and passes the Serious Labs ANSI Compliant Assessment Scenario with a minimum of 80 percent proficiency, they will have demonstrated sufficient skill, ability, and awareness to be certified by the training entity. The simulator calculates this proficiency score based on dozens of data points aligned with industry testing standards.
"We have always known that our combination of VR and analytics is the best way to train MEWP operators, but now it's official," said Jim Colvin, CEO, Serious Labs. "Our team has worked hard over the past few years to refine our simulator training to meet ANSI's strict requirements. I'm proud that we are the only VR developers in the world who have achieved this accomplishment."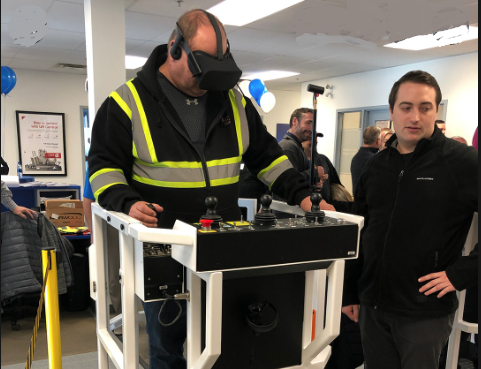 The ANSI Compliant Assessment Scenario is custom designed to verify the MEWP 3a, 3b ANSI A92.24 and ISO 18878:13 specified boom lift and scissor lift competencies. The simulated training features consequence-free obstacles and situations that would be difficult to set up in a real-life training space—the very reason traditional trainers struggle to meet the ANSI Standards. In VR, these conditions can be replicated safely and reliably to train and certify operators to a higher level of proficiency than ever before possible.
The simulator provides a data-based report of the operator's techniques and behavior. The trainer is then able to focus specifically on areas for improvement in the operator's skills, an aspect especially important for plant facility maintenance turnarounds and shutdowns where it is critical to understand the skills gaps for temporary workers who are operating equipment on location.
"Serious Labs has effectively created a virtual environment that will test operators' MEWP skills in VR to a high degree of reliability," said Wallace Judd, PhD, President, Authentic Testing Corporation and former ANSI Assessor. "How operators perform in this virtual test is going to correlate very closely to their skills and capabilities on a real MEWP, to the point of being usable for certifying operators. The test carefully and faithfully measures the qualities that ANSI asks for in a proficient MEWP operator."
"There isn't a single training entity in the access industry that's delivering this level of training to the ANSI standard," said Wade Carson, Senior Director of Product Portfolio at Serious Labs. "We are pleased that we have achieved compliance for the organizations that want to offer better, safer working conditions. Our customers can feel the highest level of confidence that operators completing the training are proficient to use that piece of equipment safely on a job site."
Serious Labs' ANSI and ISO-compliant operator equipment training via a Serious Labs' MEWP simulator is available now in the United States, Canada, Mexico, the Caribbean, Central America, and South America. The new training scenario is available in English, and will soon be available in Spanish, French, and German. Please contact Wade Carson for more information at wade.carson@seriouslabs.com.
To pursue accreditation of VR testing under ANSI and ISO standards, please contact Wallace Judd at wjudd@authentictesting.com.